~ SUNDROP CRYSTAL ~
Providing Fine Swarovski Crystal to You Since 1998.
~ Crystal Sizes! ~
A Few Helpful Hints to Make Crystal Sizes Less Confusing!
What is a millimeter (mm)??
Crystals are made in Europe.
The people in Europe measure things using millimeters, centimeters, meters, and kilometers. We use inches, feet, yards, and miles. How do we figure out what the measurements mean?
---
Here are some pictures and descriptions to help you.
Any Questions, Just Ask!
---
Here is a US Dollar Bill With The Fancy Pear Crystal Family.
Crystals in Sizes 28mm, 38mm, 50mm, 63mm, and 76mm are Shown Left to Right.

---
This Ruler Shows Both Millimeters (mm) and Inches.
You can compare any measurement.
You can see that 1 inch = 25mm, 2 inches = 50mm, 3 inches = 76mm, and 4 inches = 100mm.

---


Here Are Equivalents For Some Common Crystal Sizes:
18mm = 11/16 inch (Just Under 3/4 inch)
20mm = 0.75 (3/4) inch
28mm = 1 1/8 inch
30mm = 1 3/16
40mm = Just Over 1.5 inches
50mm = 2 inches
63mm = 2.5 inches
76mm = 3 inches
100mm = 4 inches
150mm = 6 inches

---


Money Sizes:
A US Quarter = 24mm
A US Nickel = 21mm
A US Dime = 18mm
A US Penny = 19mm
A US Dollar Bill is 154mm long and 66mm high
An 18mm Crystal is the Size of a Dime
A 28mm Crystal Star is a little larger than a US Quarter

---
Here is a US Dollar and a ruler to help show you the sizes compared with something familiar.
We hope it helps! Dollar Bill is 154mm Long and 66mm High.
Black Circle and Green Circle are 15mm. Portrait is 40mm High and 34mm Wide.
Ruler Shows Both Millimeters (Top) and Inches (Bottom).

---
Here Is A Ruler Showing Inches and Centimeters Instead of Millimeters.
One Centimeter Equals Ten Millimeters. 3cm = 30mm. 2.54cm = 1 Inch.

---
Dollar Bill, Two Rulers, US Quarter, and Three Crystals.
Crystals are Star 28mm Blue, Star 40mm Blue, and Ball 30mm.
Ruler Shows Centimeters Instead of Millimeters.
One Centimeter (cm) = 10 Millimeters (mm). 5cm = 50mm = 2 inches.

---
Dollar Bill, Two Rulers, US Quarter, and Four Crystals.
Crystals are Star 28mm Blue, Star 40mm Blue, Star 50mm ab, and Ball 30mm (on the bill).

---
The Incredible Crystal Ball in Several Sizes!
From Left, 100mm Ball, US Quarter, 40mm Ball, 30mm Ball, and 20mm Ball.
And that's our photogenic little blue friend, Al.

---
---
---
---


~ Helpful Hints ~
Remember- Big Crystals Will Make Large Rainbows!
Crystal Prisms Love to Play With Light!
Crystals Will Make Beautiful Rainbows in Sunlight!
The Bigger the Crystals, the Bigger and More Colorful the Rainbows Are!


Mix Sizes and Shapes for an Incredible ~ RAINBOW Show! ~

HINTS ON SIZES: 18mm is almost 3/4" (large earring or Dime size), 28mm is 1 1/8" (pendant size, bigger than a Quarter), and 40mm is 1.5 inches. It doesn't sound like much difference, but remember, they are also thicker, heavier, and wider in addition to being longer. The difference in appearance is quite striking! Any size is perfect for a window display. The 40mm is most dramatic, 28mm is smaller but still a good size. The 18mm is quite small but is good if you like small crystals or have a display with large crystals and need some smaller pieces for contrast and interest. Here's a ruler showing both inches and millimeters (mm) so you can compare!





COLORS: Crystals are colorless if listed as "mm" (millimeters). The letters "ab" stand for "Aurora Borealis". This is a light coating of 24K gold that gives the crystal iridescent coloring and gold brilliance. It is designed to give colors to a crystal in low light. It still allows it to make rainbows in sunshine. If you like the pure beauty of crystal, get "Clear". If you like a visual impact in any light, and some extra color, try the crystals in "ab". AB is bright and shimmery but is not invisible. It creates changing colors on the crystal the way oil on a puddle makes Rainbows.
---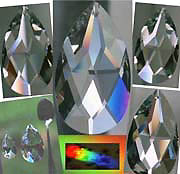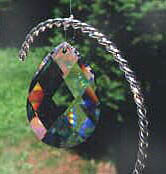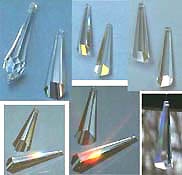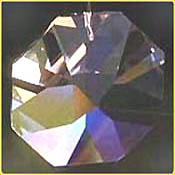 ---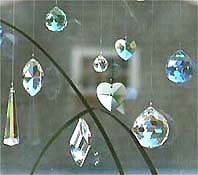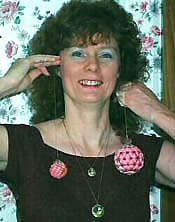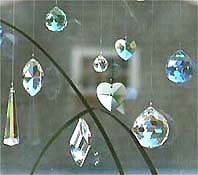 Wow! A Gift of Crystals! SwirlBall 40mm at Left, Ball 70mm at Right!
Pendants are 18mm and 28mm.